N    E    W    S,     F    A    Q    &      I    N    F    O    R    M    A    T    I    O    N
REALLY OLD NEWS!
MEMBERS!
PHOTOS!
HISTORY & FAQ!
---
News as of 7.19.00
---
Had an acoustic show. We sucked, only half the band showed up on time due to our time slot change. Thanks Less Than Jake, glad to see your not rock stars. The show was fun anyway, most of the people that were there were lame, the bands were lame, but i had a good time when we played. I don't really like Less Than Jake anymore, I haven't since we played with them last year and they were the biggest dickheads ever. The only band I would want to see was cooter, but I missed there set. Anyway, we have some shows coming up. Check out the shows page for that.
-Dan
---
News as of 7.10.00
---
Hey guys. Its been a while since an update. We have some big shows coming up. One is a secret. You'll be there though, I'm sure.

The Penis Poll is doing well, lets keep it up! Also, we broke 20,000 hits! Thanks for helping DogPenis.com a, I dunno, a milestone in web page shit? I dunno, thanks anyway.

The wronge way inn show was shit. It was fun, but man oh man does that place suck. We stole a chair, if you wanna buy it, it'll be up on ebay soon. Also, we recorded that show, it came out like crap, but if you want a copy, email dan at peweshermn@aol.com

Thats about all. See you later.
-Dan
---
News as of 6.20.00
---
PENIS POLL 2000! Well, it recently came to our attention that two member of channel59 are uncircumcised!!! Both dan and Nick are true men, they are uncircumcised! This amazed many a fan and other members themselves! So, to find out how much of our fan base has foreskin, we made this poll.
---
News as of 6.03.00
---
Hey everybody. The all new DOGPENIS is on the way. We have a few shows coming up. Check out the shows page for that. we will be playing two new songs at these shows. Be sure to check them out. I am at a lack for words and I have a cold, so I really don't wanyt to be writting this. Bye
---
News as of 5.22.00
---
Well everyone, CANCER SUCKS 3 was amazing! Over $3,000 was raised and tons of food was donated! Thanks to everyone that came and thanks to everyone that donated exra money. I had such a good time at this show. We rocked hard at that show, infact, a little to hard....

Some of you may of seen me gimping around the show after we played. Or walking with a chair, or hopping. Well, reason being is I fractured my foot on stage. Here is the story. We were playing are usual sloppy as hell set, and the crowd was awesome! Singing along, getting really into it, going crazy. Well, he haven't practiced in over a year, so we didn't do any of our complex songs, so we fucked around the whole time. Well, when it came time for our set to end, the crowd was chanting "ONE MORE! ONE MORE!" and we had run ofout songs that were short(we didn't want to go over) and we ran out of songs that we liked to play (expect for Samuri Warrior Ninjas, I don't know why we dind't do that). So, i left it up to the fans to decide what we play. We heard a lot of cires of song names, but Skabba Fette was being yelled the loudest and hardest by some guys that deserived a request. They had been singing along the whole time and stuff, so, even though we hate that song, and its bad, we played it. Here is where it gets bad. While Jumping up and down like a moron barefoot, I jumped up, and landed on my left foot, sideways. Now, that is not supposed to happen, so when it dose, it hurts and breaks stuff that you need.

I got it x-rayed abd it looks I need a cast and it fractured. WE WILL STILL DO SHOWS! I will go just as crazy, but, with more control and with a cast, it will be fun. i thought I would share that story of my pain.

we have a few shows lined up with rated r an mandolin controvers. They are gonna rock! I'll post the info as I get it! See you soon!
Your Pal,
Dan
---
News as of 5.12.00
---
Hello. Sorry this page hasn't been updated in a while, I've been working on finals and on setting up cancer sucks 3, which all of you better go to. Its gonna be a rockin show with tons of great bands. Check out www.cancersucks.net for more info. Thats about all the info for now. BE SURE TO GO TO CANCER SUCKS 3!
your pal Dan!
---
News as of 4.26.00
---
Hey everybody! Thanks to everyone that went to the shows this weekend! They both rocked, and if you missed the shows, you missed two of the most fun shows i think we've played in a long time. Below is a recap of those nights.

Thursday we play the Long Island Zoo with Fiberglass, ASOB, Sprout and a lot of others. Well, the show much larger than I thought it would be and the crowd was amazing! We played some news ones including 'All Night Party' and a cover of 'The Rhythm Is Gonna Get You.' Special thanks to Chris Dutcher and Joey of Fiberglass for playing guitar with us. Also, thanks to Dave and Jeff of ASOB for playing horns!

Well, the next night we play the Knitting Factory for the second time with the Scofflaws. The Stubborn All Stars also played and Primitive Reason opened up. They were amazing! Check them out. AJ and Matt came back special for this show. they rode over 7 hours on a bus just to play this show, and Matt forgot his sax, so he sang with me. Anyway, the show ruled, we were really sloppy, but once again we had a great crowd that seemed really into us and we just rocked as hard as we could. Pictures from that will be up really soon.

Well, CANCER SUCKS 3 is coming up soon. Check out www.cancersucks.net for more info. Bye.
---
News as of 4.18.00
---
Hey. Well, I hope everyone is coming to the two shows this weekend. Unfortunatly, AJ, our beloved guitar player ex-star-de-nair, will not be with us. He goes to school real far upstate at RIT. So, to fill this vast viod JOey, from Finerglass will be filling in. Joey will most likely fuck up since he never played with us before, but we have practice tomorrow to work out the songs. But if we suck, blame Fiberglass for having such a bad guitar player.

Also, we will be selling some more copies of the RAW AT THE VANDERBUILT CD. We sold out last time we sold these, so make sure to get your copy at the shows. I mean, if you don't you might never get one of the most obsanity filled CDR cheapo CDs ever.

My side band, the Majorcans is going a benifit run for a local Hospice group in the near by SUNY Purchase\White Plains area. More info on that soon. I might do one on LI as well for a CANCER SUCKS fundrasier. But not until after CS3. See you at the shows this weekend! It will be joyus!
Your Pal Dan!
---
News as of 4.08.00
---
Ass cunt. Our tour with the Scofflaws got cancled. I am so bummed out. There is no other term to use for such a feeling. Ass cunt. Thanks to Scotto for working his ass off to try to get it under way. Also thanks to Slick Tommy Moneybags for all his help as well.

Anyway, we have a show at the Knitting Factory on the 21st of April. Check it out. Sorry for being so vulgar above, but I need to vent(all wusses say that, and I am no wuss). I don't need to vent I mean, I can be vulgar when ever i choose to be. Ass cunt.

Also, we have found a new server! No more Tripod for us! No more ads or pop ups! Just the open road for uncensored interent action.

In other news, Dan is coming out with a solo tape and CD of all his musical experiments. It shouldn't be passed up by anyone. It will be out by cancer sucks 3! Fans of indie rock, experimental music and MIDI files should preorder this fine masterpiece for the CDs will surely sell out. MP3 and Real samples will be up soon! Anyway, by! ld news is below.
---
News as of 4.01.00
---
Hey, more tour info will be up really soon for our short East Coast stint with the SCOFFLAWS. We will most likely be playing DC, Philly, Baltimore and Richmond VA. More info on that as soon as we get it. Plus we might have a few NYC shows coming up, but maybe not.

Hey! We are selling stuff on eBay! Well, just I am. ME and my friend Joe are selling 12oz of human feces and we also are sellling a penny.
Click here for Human Feces!
or
Click here for a Penny!
Well, thats all for now. Thanks for reading, i was gonna write something that I thought was funny, but i realized it was not funny, I am sorry.
Your Pal Dan!
---
News as of 3.21.00
---
Well, I'm back at school and I've been learning more about Java Script for the JavaScriptSource.com, so the page is looking a little better. Thanks for all the compliments, you guys rule! Anway, I had no idea this section of the page got the most hits out of the whole web page! Coming in second after the INFO Page was the NICK INFO CENTER page. The ladies must love Nick. The pages lacking personal counters were the SHOWS page, the TIM INFO CENTER and the STEVE INFO CENTER. IF they had counters I bet things would be a little different. Cunt.

Anyway, thats about all, I'll probably update this page like every two weeks, unless I'm bored, then I'll do it more often. Anyway, if you have any suggestions post them on the NEW guest book, maybe we can fill up another! Man this update is so dorky. Programing HTML and Java is starting to get to me. Well, check back soon, hope to see you at the shows!
---
News as of 3.17.00
---
Why hello there friends. It's been about a month and a lot has happened. We bought two, count em, two domain names. One been channel59online.com and the other is DOGPENIS.com! How great is that?!?!? It's great! Merch for that is on the way as well as all new merch. But beofre I get into that, I'd like to thank Kevin of Coalminer Records from making this happen.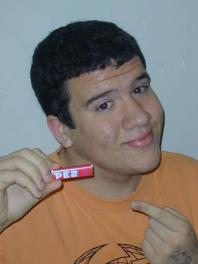 He bought us the domain names, including DOGPENIS.com, and we love him, as all should.

Anyway, just about every page on this fine channel59online has been updated. We have shows, new films, tons of stuff for you to enjoy. Check the shows page out for info on the show, its a cancer benifit show, all should go. Click here for that!

No news yet on the tour in April but there will be soon. Thats about all the news for now, more to come soon. Oh yeah, i might change the layout of the webpage, but who the hell knows? Old news is below!
Love your pal Dan!
---
News as of 2.16.00
---
Hey guys. It's been a month since I last wrote stuff on this page. Anyway, a lot has happened. Here is the low donwn:

We are planning our first tour for this April with the Scofflaws down the East Coast. we can't wait. It will rock!

We won an award! Wow! We won Best New Band of 1999 in the 2000 Rudy Awards! Here is the deal. we have been around for like 4 years, but we put out our first albumn in 99, "Raw at the Vanderbuilt." Some people feel that we shouldn't of won because of that. well, they might be right, but we didn't make the rules, sorry sorry to everyone that is pissed. But if you're pissed about us winning, you probably hate us, and if you hate you us probably aren't reading this, so eat bloody dog cunt you fig fuckers. But to everyone else that voted for us, and even to those that didn't vote for us, thanks for helping out the Rudy Awards, Jay at WLIR and Bob Timm at Ska. Abut.com both worked really hard!

Anyway, as I promised, I'm setting up a victory party/show. More details on that soon! See you guys later! Bye for know! Old News is below
---
News as of 1.14.00
---
Nothing really new. We have a few shows in the works. We'll post the info as we get it. Ummmm, new merch is on the way. Thats about it. Tripod has not been kind to us lately. We will soon have a new web site with all the works. But until then, the free crap with have to do. Well, since no one really reads this, I'm not going to update this ection as much, unless I get some feed back saying you would like these update letters, just put them on the guest book. Bye for now!
---
News as of 1.8.00
---
Hello hello hello. Whats happening? I hope you all checked out the INAPPROPRIATE SITE!! It's clasic Channel59 fun! You better go! I'll be gone and redone on the 18th of January and placed in the archives! So check it out now!

Also, some pictures from the Knitting Facotry are in.Click here for that!

Anyway, there is a new section up! The Fan Mail and Instant Messenger Fun Page! This is a fun page for us.Check it out here!

Thats all for now! Check bank on the 12th for the next update! Sign the guestbook! Bye!
---
News as of 1.02.00
---
Hey everybody! I hope everyone had great holidays. Well, i guess the world didn't end. Anyway, the KNITTING FACTORY show was great. It was a really big room, with tons of people, great lighting guy and excellent sound. We played a killer set with news songs and everythings. Thanks to everyone that came down. You rock! Specail thanks to the Scofflaws for letting us use use their drums and bass amp. And extra special thanks to Allstonians Shirt Guy, thanks for not beating Dan up. You rock.

Anyway, Dans comedy club gig is on a Thursday, the day after there in no high school on LI or NYC, all should go!For more info click here!

Also, the release of the Channel 59 rareities tape will be pushed back. More on that soon. Thats about all, see you soon!
---
News as of 12.27.99
---
Hi everybody! Hows we all doing? Great, great. Well thanks everyone that went to FUCK MS. You helped raise well over $2,000 to help a victim of MS. You all rock. If you didn't go, well then you are dirt and we hate you.

Anyway, I hope you all visited the Members Info Center and I hope you sall saw the new neat animated graphic that goes with it. Also, check out the songs page. All the words are up and two MP3s. Soon we will have more free MP3s up there for you, but for now, deal with two.

Ok, here is the big news! We are currently recording all our rare and bizzare songs for a limited edtion release. They are a few songs from our live set, but mostly songs we never play at shows. Since most if it is experimental rock, we don't play it at shows. But this is a must recording for all true fans. More info on this soon. Bye for now!
---
News as of 12.23.99
---
Hey, I redid this page. I hated the last layout for the info page. I like this better. I didn't add anything else really but shows, which you should check out. I've been having some trouble making the chat room. As soon as that is done I'll let you know, until then, you can't chat. oh yeah, Mike from Step Lively is now in Channel59. Love him, care for him. He is great. Well, the members page is done. everyone (but Mike) has their own page with pictures and mean stuff about them. Check it out, its funny, and it took me forever. Thats all for this week, see you at FUCK MS!
---
News as of 12.17.99
---
Hey guys! I really hate the layout for this page. I will be changing it soon. Very soon!
But beofre that I will put up all the neat stuff on the Interactive page!
Check out the shows page! Bye for now!
---
News as of 11.28.99
---
Well, last night was a great night. The show was amazing. Even though it was a small place with a small stage every band rocked their hardest! We played a long ass set including what I would say the crowds favorites The 3-1 Song, Man Hands, Rudy The Rooster,Kartie Chop!, Theme Song(Lounge Version.)Thanks to all you girlie girls and clean cut kids that danced and sang along! Special thanks to Pound Cake Guy for getting Dan pound cake and saving his life with pound cake goodness!

                 "You guys remind me of the early days.......
                 Your show was a lot of fun......
                 Never forget the fun, if you do then you become assholes!"
                         -The MC Bat Commander.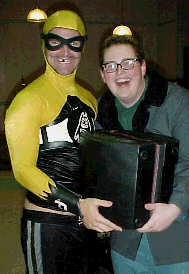 Thanks Aquabats, we'll never forget the fun. Well, thats about all for now! See you soon! Be sure to sign the Guest Book! Bye!
---
OLD NEWS!
MEMBERS!
PHOTOS!
HISTORy & FAQ!