MATT NARDI!Update: Matt is a freshman Natural Resources major at Cornell University. Alto Sax and only Alto Sax. Believe it or not, folks, Matt is really in the band. You should probably go up to him at a ska show and be like "Hey man, I know you...you're in Channel 59." But you probably won't. He'll be walking around with Dan and AJ and Nick, and you'll be like "Hey Dan, AJ, and Nick, prominent members of Channel 59! Who's that tall schmuck following you around? Whoever he is, he sure isn't in the band. He probably just drives you guys all over the island to crappy shithole venues in the middle of nowhere." Not that Matt cares or anything. In fact, he cares the least. Oh, and by the way, Matt is now on the search for a cure to the bizzare warts he has on his penis. He got these warts because he got a hand job from some really annoying girl. Tell Matt your cures to penis warts caused by hand jobs from really annoying girls. Also, If you happen to be a hot girl interested in going to the prom with Matt, you can IM him on AOL as "Finstabush". But don't send any mail to Finstabush@aol.com; there is no such address. He is really desperate for a prom date. Seriously. Finstabush@hotmail.com
---
MATT NARDI PHOTO GALERY!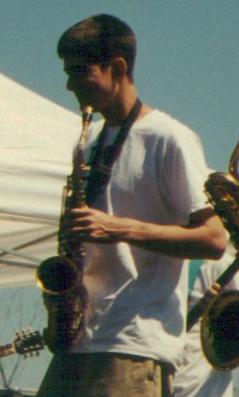 Heres the Matt Nardi we all know and love. Standing there proud with his mighty sazaphone. He loves his sazaphone. He never forgets it, ever. This fine photo is off Matt Nardi on stage at Parkfest at SUNY Albany. It was a cool show with Blink 182, P Funk and tons more. Matt got to meet his idol: KD Lang at this show. He almost died! It was so cute. He held her hand and they sang KD Lang songs together. If only miricals happened twice.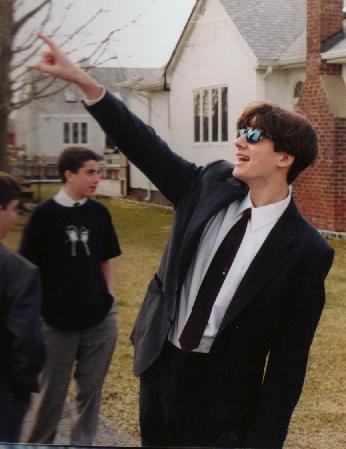 Here we have a classic shot of Matt Nardi. This was taken years ago beofre the first ever paying gig Channel 59 ever had. It was a bar mitzva. Seriously. This is back when we wore suits to shows and looked liked even bigger dorks. Notice the cool shades Matt is wearing? A trade mark of pre-pubdesant rude boys.



Here Matt riding a tricycle in Europe. Moments later he he became a man. It was a bizarre rite of passage for all Europian boys back then.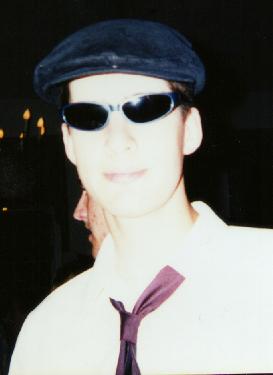 This is a photo of Matt during his pale lizard boy stage. This picture was taken at the Old First Church in Huntington, NY. It was at our first show ever on 6.27.97. with the Scofflaws, Spider Nick and the Maddogs, Checkerboard Charlie(thier last show), and Dissent. Notice, the shades are still present.



In the back alley behind the recording studio where we recording Bionic Man Hands. It was in a really nice area in a really fancy studio. There wasn't cat piss anywhere. Nope, no cat piss or weird coyboys listening to techno next door. Nope, none of that. We didn't fear for our lives. Nope.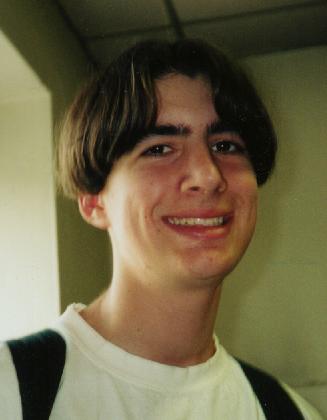 This is when we took Matt to Glamor Shots for his birthdayday. They dolled him up nice and made him so pretty. Thank you Glamor Shots. You made Matt a STAR!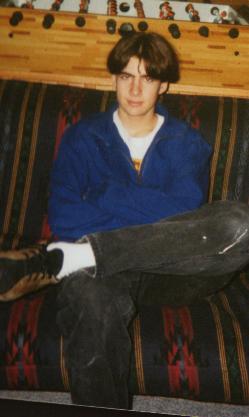 This is Matt back when is was a sailer on a charter boat. He made sure the chum was good and hot! If its one thing that Matt has, it's a love for the sea!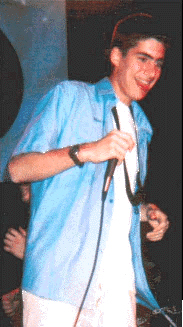 An action shot of Matt on stage at the Vanderbuilt back on 4.8.99 when we played with Less Than Jake. This Matt showing the ladies what he's made of!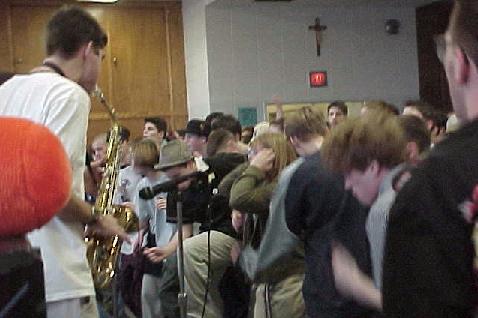 This last shot of Matt is from the OLV Winter Ska Fest back on 1.16.99.
---

Matt can drink
beers before he blacks out and wakes up with a bloody fist from punching a wall.

---
Back to the MEMBER INFO CENTER!!!
---