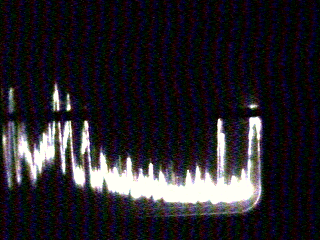 Welcome to the 'What Is Channel 59' page. It is full of crap no one ever cared about ever. This is a picture of the actual T.V. station Channel 59. WOW! I bet you care a whole lot
---
Before the pointless crappy story on the bottom, we'd just like to thank a few people.

Thanks to all the bands that have let us play with them: Fiberglass, The Aquabats, The Hippos, Blink 182, Parliment Funkidelic, Cone Head Buddha, The Amazing Royal Crowns, Blue Oyster Cult, Less Than Jake, The Skatilites, Mustard Plug, Skavoovie & The Epitones, Bim Skala Bim, Edna's Goldfish, The Scofflaws, H2O, Inside, Big D & The Kids Table, The Glassjaw, Skinnerbox, Digger, Animal Chin, One Cool Guy, Day 19, Catch 22, Noreaga, Blanks 77, Freacks From The Apocolypse, 23 Skadoo, The New York Ska Jazz Ensamble, The Loose Nuts, L.E.S Stiches, Lounge, The Decepticonez, The Insecurities, Close Call, Sprout, Down Beat Alley, Step Lively, Spider Nick & The Maddogs, Bugsy, Dr. Colassas, Chimi-Changa, Et Tu Brute, Doppler 4000, Simon Has No Pants, Who's Yo Daddy, Radiation Kings, Racketball, Who Cares, WCF, Seven 2 One, Checkerboard Charlie, The Insurgent, Arrogant Sons of Bitches, Infinate Alliance, All Rights Resvered, Mircowave Orphans, Two Man Advantage, The Dru Hermans, Clump, Fungus Amungus, Artie's Taxi, Hatchback, Down For Life, The Verdicts, Gas Kitten, Clueless Grover, Dissent, Troy's Bucket, Focus, Contra, Adrenilen , Jed Bules Midgets, 48 In The Basement, Manix, Libertines, Under The Gun, ADHD , Shot In The Dark, Face Plant , C-Toe, The Groovie Avocadoes, The Sixties, The I.N.K Band, Turbo Dog, Steady, Blvd. Blues, MJ-12 , Rickie & The Roaches, Dasta Hustabul, The Phernologists, Number 12 Looks Just Like You, The Mutes, On The Might Of Princess, Shades, Chapachino, Norma's Lemon Stand

Thanks to these people who have helped us: Joey and Danny Fiberglass for being the best roadies ever, Ashwani Prabhakar, Mike Lynbrook for not kicking my ass, P Funk for giving us our vidoe tape back, SCOTTO!, Jason Dean and WLIR, Tim Grill, Gary Henderson, Vinnie at Split Descion(your so radical), James Petz, The guys at Vudu Studios(the money is in the mail), Richie Rauff(sorry we dicked you over), Mike Hack, Judy Latchett, Craig at the Funky Phish, Andrew Friedman, Christian McNight, Ryan Mccasilen(even if he is a weiner, John and Paul, the bass player of Bim Skala Bim for lending us that bass string when Jeffs Broke, My Old Buddy Chris of the Glassjaw for lending AJ a guitar when AJ forgot one when we played with H2O, Jordan Horelsy, Kaite Deacon for being so punk rock, the Richie4Life Crew(for adding pazaz to the guestbook), anyone who has ever booked us, and every one who has gone to our shows, bought our stuff, or wears or stuff! Thanks! You Rule!



And now, the most boring thing ever, the story on how we got started:

Channel 59 began in early July 1996 at Nicks, the tenor sax players house. The members consisted of Nick Carbonaro on guitar and bass, AJ Quashie on guitar (he likes to hurt people), James Petz on vocals, and Jordan Horsley on Drums and bass. The boys were jaming and three hours later emerged with the song GODZILLA-King Of The Monsters (the song sucked, alot but the kids loved it). Later that day the crazy fellas, minus Nick, went over to the house of Dan Deacon where they told Dan of their achievements (he was so happy) and spawned a new song, HIPPOPOTOMUS LOVE LAND, it was just noise with Dan reading one of his crappy poems over it. The summer went on and the band grew (those twinkies tasted so good we couldn't stop). They added members Matt Nardi on bari saxophone and Tim on drumsophone. The band was a crappy, horribul experimental noise band but the boys knew there was something else out there for them. By late August, Dan had invented the name CHANNEL 59, based on the weird TV channel with the bizarro-warro graph. It is a big mystery what this channel really is (a big crappy mystery). Anyway, the band sucked, a lot. Towards the end of the summer Dan, Nick and AJ got together with a friend, Ryan McCaslin (obssesive trumpet boy.) They figured out 2 songs in 2 hours (amazing) and they thought they were hot shit. The next day they showed the songs to James. James paid no attention, he climbed up onto the loft over the garage and preceded to toss magazines on Nick's delicate head. James later quit by saying the band was going nowhere. He said we wanted to follow his heart and collect pornography for a living. Jordan, who at this point played Bass, left the band to help James in his quest for the porno. In early October they recruited Ryan Nuckel on bass and John and Paul Whithohn on trumpet and trombone (isn't it weird how none of them are in the band anymore? I bet there was a curse on that mouth). Anyway back then we had lots of parties because it was a happy time for all, except for Nick who cried all the time to get attention. In mid-November they added Erin Cagliotti on Keyboards and Piano (WOW Keyboards AND Piano)!!!!! They have added Lou Gonzalez on trombone due the Whithohns leaving for the summer (I mean FOREVER) . Now they're gone for good, which brings us to a very important rule in Channel 59: DON'T SCREW US!!!!!!!!! In mid-July of 1997 Channel 59 changed bass players again. They kicked out Ryan Nuckel due to "artistic conflicts" (it all comes down to the "Don't Screw Us" rule), and Jeff Magill replaced him. Jeff doesn't have fingers, though, he lost them while wrestling (violating) birds. Despite all his handicaps he is a much cooler person than (the old) Ryan Nuckel. On the night of their 1998 school talent show, which they won, they added Paul McKenna on auxilury precussion, dancing, juggling, and goofy tricks. Paul is potty trained, almost. In January 1998, they released their debut Demo entitled "Action Shower." Due to the fact that they have no friends, lives, or facial hair, they suck. Sometimes we think about how sad we are and we eat chalk. Anyway, things changed, Paul got phased out of the band(we kinda just never called him again). That summer, there was a Battle Of The Bands at Deja 1. The winner got to play with either Less Than Jake or Mustard Plug. But, the day of the battle, Ryan was having tooth surgey so he couldn't play trumpet. We were screwed! Without a trumpet, our horn lines would sound empty! But aha! AJ said he knew a trumpet player from West Babylon: Richie Rauff. Well, we gave Richie a call, and he said he'd love to join us. He learned all the songs and played the Battle Of The Bands with us. We won the Battle, and we everything was great. But, then we screwed over Richie. We never called him back and we kicked him out of the band. This made his friends very very angry. They hate us. They hate us alot. Anyway, time went on and come Fall of '98, the good old CH59 was having problems. Ryan McCasilen was quitting. This sucked for us. He was a really great trumpet play. He was also a giant dick, but still, a really really good trumpet player. So we went on a quest for his replacement! We found Steve Garcia! The famed drummer of Fiberglass was also one of the best trumpet players on Long Islnad! So he joined us and brought along his pal Wyane Morrise the best trombone player in the world! Then after all that amazment, Greg from 23 Skadoo joined on bari and Paul McKenna joined on Aux. Perucussion. And thats where histroy stops and the present begins.Thanks and come again soon, we love you!!!!!!!!!!!!!!!!!!!!!!!!!!!!!!!!!!!!



---
Channel59@aol.com(send comments)